VISIT SINHARAJA RAINFOREST BY PUBLIC TRANSPORT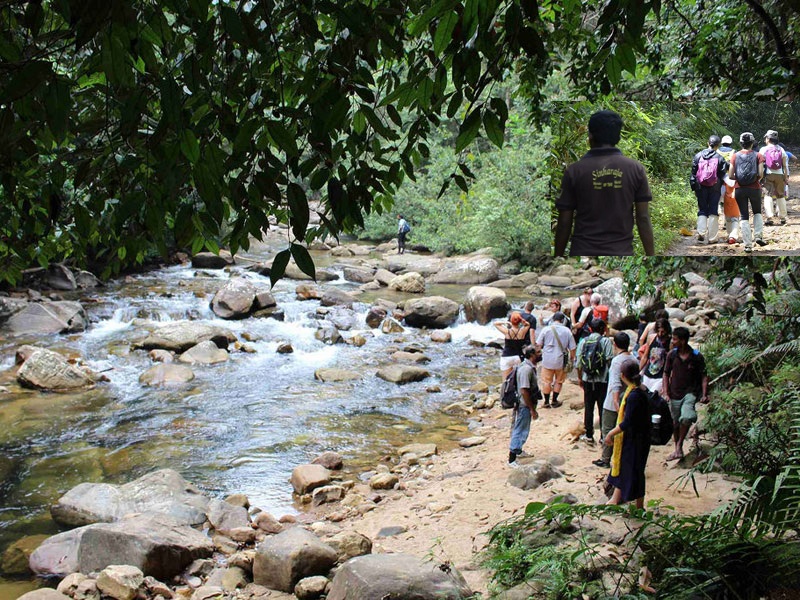 WHEN TO VISIT SINHARAJA FOREST RESERVE?
January until March is the best time to visit, as you will avoid the rainy season. April and August to October are still good months to visit, but there might be a bit more rain.
WHAT TO BRING?
Make sure you bring enough water and snacks as there are no restaurants of any kind in the park. Also, take your camera and binoculars to have a good look at all wildlife.
WHAT TO WEAR?
The park is only accessible by foot, so wear something comfortable for the hike. I managed perfectly fine on my runners, so I would say you don't need hiking shoes. The trails can get slippery because of the rain, so do wear shoes with some grip.

You can wear shorts if you want, but there are many leeches in the park. So I would recommend long trousers, high socks, and closed shoes. To keep the leeches out, your guide might also put a lot of salt on your socks and shoes. Apparently, salt helps to prevent them from sucking to your skin.
If you are really freaked out by leeches, you could buy special leech socks at the park office at the entry. They cost about 350 LKR (2.80 $).
HOW MUCH DOES ENTRANCE COST?
The Sinharaja forest entry fee is 2700 LKR (15 USD). This price should include a guide, as a guide is mandatory. You can get your ticket at one of the three Sinharaja gates, which are open 6:30-18:00 (last tickets sold at 16.30). Because Sinharaja is so big, there are three Sinharaja forest entrances. Whichever gate you pick, will give you a different experience.
A hike through the forest will generally take about 2 - 5 hours. Of course, you could ask your guide to make it as long or as short as you would like. Hikes usually leave early morning or later in the afternoon to avoid the rain and humidity. The latest morning hike usually leaves around 9.00.
If you are visiting the Sinharaja rainforest by public transport, you should look for accommodation near Deniyaya. And there are quite a few options for accommodation that can fit in any type of budget. From hostels as cheap as 4 - 5 USD per night to more luxury lodges of 40 USD per night.
• Get to Matara's main bus station
• Take a direct bus to Deniyaya (about 2 - 5 hours, 130 LKR)
• Arrange a TukTuk to your accommodation
If you've missed the direct bus
• Get to Matara's main bus station
• Take a bus to Akuressa (about 1 hour, 50 LKR)
• From Akuressa take a bus to Deniyaya (about 2 hours, 86 LKR)
• Arrange a TukTuk to your accommodation.
There are three entrances to the park. depending on where you are coming from and where you want to go next, either the northern (Kudawa) or southeast (Deniyaya) entry is your best option.
If you want to visit Sinharaja from the south, such as Mirissa, Galle, or Tangalle, the southeast entry (Pitadeniya) near Deniyaya is the best option.
The messenger on HeyTaxi.net can be used for chat help.
Please do not forget to sign in and place a comment bellow.

Other Places That You Can Visit

රියදුරන් සහ මගීන් අකණ්ඩව සමායෝජනය කිරීමේ වියාපෘතිය.
www.heytaxi.net - The Cyber Taxi Park